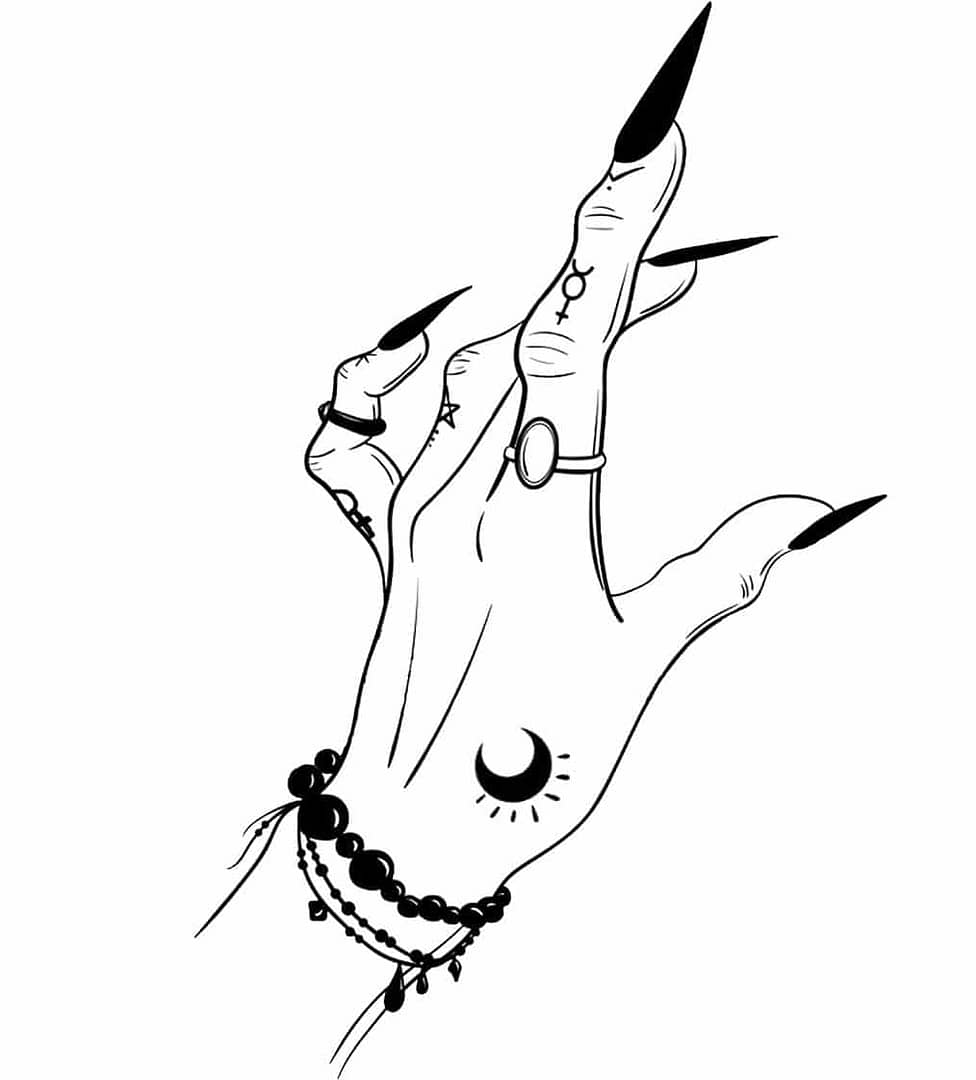 How to find your right ring size
Questions to ask yourself before you start measuring:
Question A
What type of ring are you shopping for? Are you looking for a mid-ring (to be worn on the top part of your finger) or a regular ring?
Question B
What finger/fingers are you looking for rings for? For fingers on your left hand or your right hand? If you are looking for a layered look with lots of rings then measure each finger you are planning to wear rings on, for example, your ring finger may be of different size on your right and left hand.
Question C
What style of ring are you looking for? Rings with a thicker/heavier band tends to feel a bit smaller than rings with thinner bands. The more metal, the more space it takes up around your finger and it will feel like a tighter fit. For example, a thick ring with the size 7 will feel tighter than a thin slender ring of the same size.
Measurement Instructions
Alternative A
1. Select a ring that you are happy with, use it as a reference, lay it flat.
2. Measure the inner ring diameter using an inch ruler.
3. Choose the ring size closest to your measurement, see inner diameter inch (in) measurements in the chart below.
Alternative B
1. Wrap a piece of string or dental floss around the thickest part (often the knuckle) on your chosen finger, do not pull tight.
2. Use a pen to mark a point on the string where the string end meet the string.
3. Measure the string/dental floss length from the end to your marking using an inch ruler, this is your finger circumference.
4. Choose the ring size closest to your measurements, see the circumference inch (in) measurements in the chart below.
Teeny-Tiny
Please note that our rings are measured in millimetres (mm) and that is small. A hair strand is for example often between 0.04 to 0.08mm. So if your ring size for example is 17.75mm/ 0.70 inches and we only have 18mm/0.71 inches, the difference between these 2 sizes are minimal, the larger ring will still fit.
Between Sizes
If you are between 2 sizes we strongly recommend you to choose the larger size because the size of your fingers will often change throughout the day. Your fingers may swell if you are warm, in regards to how much fluid you have in your body, if you are working with your hands and so on.
Measurement Chart
Ring Size 3
Diameter: 0.55 in
Circumference: 1.73 in

Ring size 3.5
Diameter: 0.57 in
Circumference: 1.79 in

Ring size 4
Diameter: 0.59 in
Circumference: 1.85 in

Ring size 4.5
Diameter: 0.6 in
Circumference: 1.89 in

Ring Size 5
Diameter: 0.61 in
Circumference: 1.93 in

Ring Size 5.5
Diameter: 0.63 in
Circumference: 1.99 in

Ring Size 6
Diameter: 0.65 in
Circumference: 2.05 in

Ring Size 6.5
Diameter: 0.67 in
Circumference: 2.09 in

Ring Size 7
Diameter: 0.68 in
Circumference: 2.13 in

Ring Size 7.5
Diameter: 0.70 in
Circumference: 2.19 in

Ring Size 8
Diameter: 0.72 in
Circumference: 2.24 in

Ring Size 8.5
Diameter: 0.73 in
Circumference: 2.28 in

Ring Size 9
Diameter: 0.75 in
Circumference: 2.34 in

Ring Size 9.5
Diameter: 0.76 in
Circumference: 2.40 in

Ring Size 10
Diameter: 0.78 in
Circumference: 2.44 in

Ring Size 10.5
Diameter: 0.79 in
Circumference: 2.48 in

Ring Size 11
Diameter: 0.81 in
Circumference: 2.54 in

Ring Size 11.5
Diameter: 0.83 in
Circumference: 2.60 in

Ring Size 12
Diameter: 0.84 in
Circumference: 2.64 in

Ring Size 12.5
Diameter: 0.85 in
Circumference: 2.68 in

Ring Size 13
Diameter: 0.88 in
Circumference: 2.76 in

Ring Size 13.5
Diameter: 0.89 in
Circumference: 2.80 in
Found your size?
Take a look at our Sterling silver rings in gothic & occult styles. 925 Certified Silver, Genuine Gemstones, Non-Allergenic & Nickel Free.
International Conversion Table
| Our Ring Sizes | US Ring Sizes | UK Ring Sizes | Diameter mm | Circumference mm |
| --- | --- | --- | --- | --- |
| 3 | 3 | F 1/2 | 14 mm | 44 mm |
| 3.5 | 3.5 | G 1/2 | 14.5 mm | 45.5 mm |
| 4 | 4 | H 1/2 | 14.9 mm | 47 mm |
| 4.5 | 4.5 | I 1/2 | 15.3 mm | 48 mm |
| 5 | 5 | J 1/2 | 15.6 mm | 49 mm |
| 5.5 | 5.5 | K 1/2 | 16 mm | 51 mm |
| 6 | 6 | L 1/2 | 16.5 mm | 52 mm |
| 6.5 | 6.5 | M 1/2 | 16.9 mm | 53 mm |
| 7 | 7 | N 1/2 | 17.2 mm | 54 mm |
| 7.5 | 7.5 | O 1/2 | 17.7 mm | 55.5 mm |
| 8 | 8 | P 1/2 | 18.2 mm | 57 mm |
| 8.5 | 8.5 | Q 1/2 | 18.5 mm | 58 mm |
| 9 | 9 | R 1/2 | 19 mm | 59.5 mm |
| 9.5 | 9.5 | S 1/2 | 19.4 mm | 61 mm |
| 10 | 10 | T 1/2 | 19.8 mm | 62 mm |
| 10.5 | 10.5 | U 1/2 | 20 mm | 63 mm |
| 11 | 11 | V 1/2 | 20.6 mm | 64.5 mm |
| 11.5 | 11.5 | W 1/2 | 21 mm | 66 mm |
| 12 | 12 | X 1/2 | 21.3 mm | 67 mm |
| 12.5 | 12.5 | Z | 21.6 mm | 68 mm |
| 13 | 13 | Z 1/2 | 22.3 mm | 70 mm |
| 13.5 | 13.5 | Z + | 22.6 mm | 71 mm |