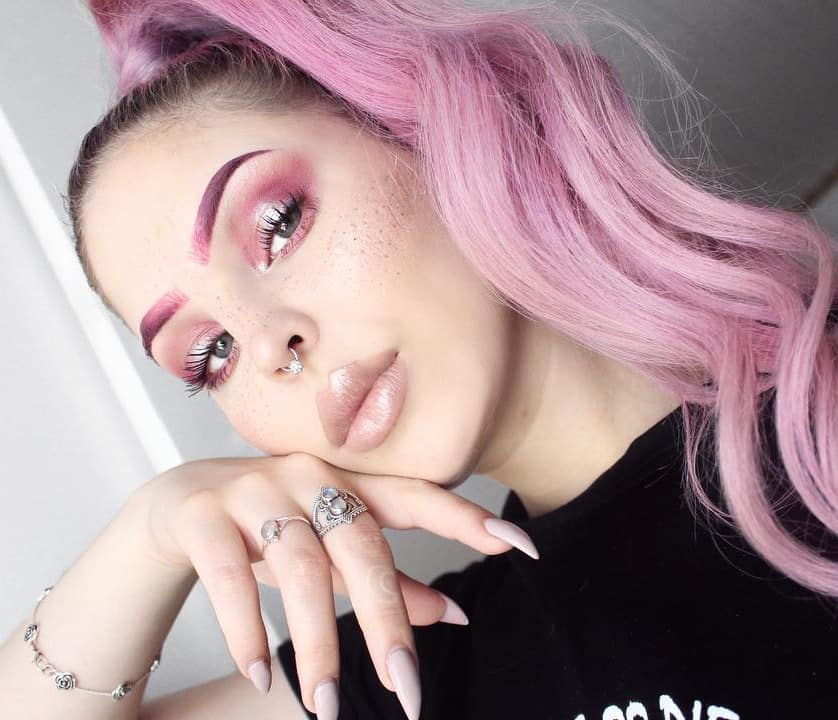 INFLUENCERS & STYLISH CREATURES
If you want to share dark and dreamy jewellery and accessories with your followers please get in touch:
1.Email a list of your 5 favourite pieces from www.hellaholics.com to info@hellaholics.com
2.Insert the number of followers from one of your platforms in your email subject. (i.e INSTAGRAM 32k )

3.Shortly tell us about yourself and how you would style and promote our goods
Don't forget to insert the links to all your platforms in your email!
A large amount of followers is always beneficial but not a necessity. Beautiful imagery with a dark and dreamy twist as well as occult symbolism and crystals is always appreciated. Smashing selfies with colourful hair, rad make-up or spellbinding ink are all also a large plus.
Image to the right featuring Belgian make-up artist and insta babe Marie Heintzen, aka @tavujesus and our Nalani Sterling Silver Moonstone ring.
YAY OR NAY?
We evaluate all potential co-ops and marketing venues based on our guide-line philosophy:
Good project
Good exposure
Good people
A style that suits Hellaholics as brand
No bullying, racism, sexism, homophobia, body shaming or other nastiness! If we like your style, your values and your attitude, then YES we are absolutely interested in a co-op and sponsorship :).
Since we receive a lot of requests on a daily basis we can not guarantee you a reply, but we do our very best to respond to as many e-mails as possible. Sponsorships also depends on subject to availability, budget and if the desired product/products are in stock, this may change fast due to popular demand.
We look forward to hearing from you!
STYLISTS, PHOTOGRAPHERS AND PR
Jewellery and accessories to lend for shoots? Sample collections are in stock, please enquire at info@hellaholics.com
WHOLESALE
Interested in wholesale? We are a proud supplier of dark and dreamy jewellery and accessories to an increasing number of shops around the world. Bulk discounts apply and you will always get a friendly and personal support. Please e-mail info@hellaholic.com with a brief description of your store, including web address, shipping address, other brands stocked etc.