Witches Circle – Welcome Amanda!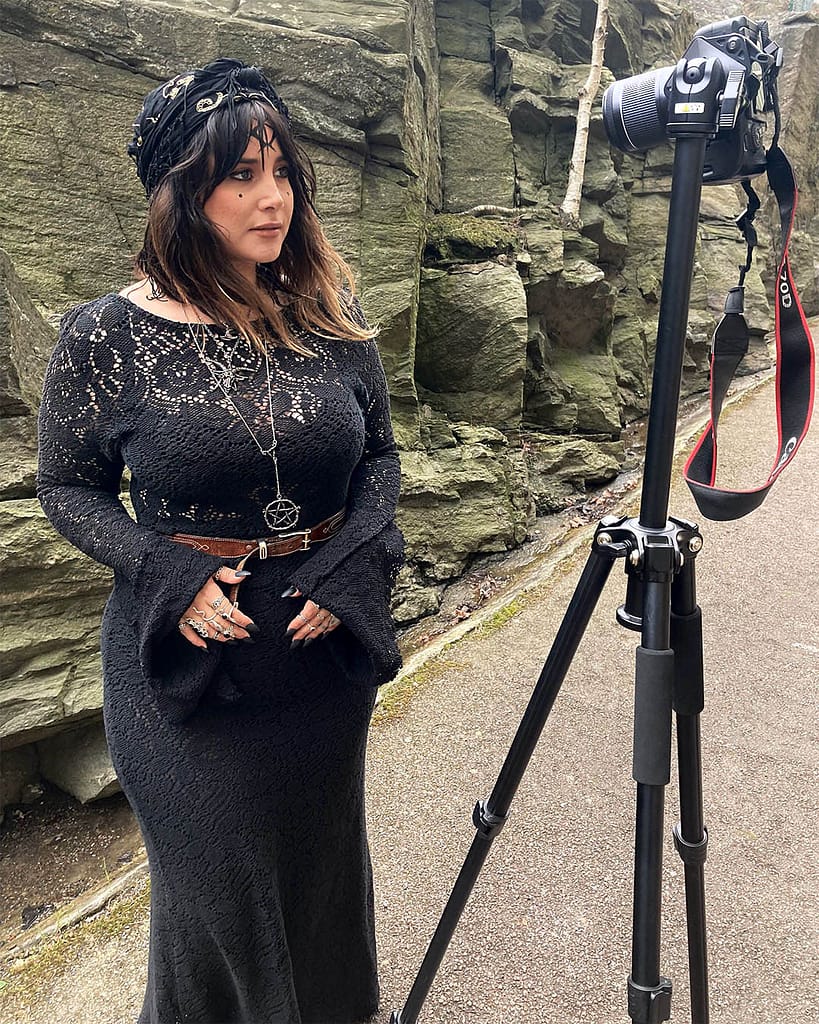 Witchy Business! We are beyond grateful and truly enjoy being able to be together in the studio again after close to 2 years of absence and taking single turns during the pandemic. Long lonely working hours are now hopefully a thing of the past. New for spring/summer 2022 is that we have started to work with Amanda, our new trainee again after her maternity leave. She is now joining us 10h each week.

Amanda is wearing a thrifted re-made black lace dress with gothic vibes, Hellaholics sterling silver rings and one of our best-selling Restyle pentagram necklaces.
Close-ups, The Branch pentagram necklace from Restyle, Wicked skull and horns and the Lucifer Sigil Necklace. Click here to view more witchy statement necklaces filled with symbolism.
Astara Sterling Silver Ring, in certified 925 silver with intricate details and 3 pitch black Onyx Stones. Black Onyx is known as the "Warrior stone", said to give strength and increase your willpower. According to ancient beliefs, it stimulates the root chakra, keeping you grounded. An empowering stone believed to help you face conflicts and hard times in everyday life.
Amanda is a great gal, super creative, and most welcomed to our team. Here wearing the Medusa Necklace, Zaria Milky Quartz Necklace and the XL Crescent Moon Necklace. View the full outfit in an Instagram Reel here.
Fierce serpent snakes ready to attack, not a piece for the faint-hearted! Love the vibe from this snake necklace!
The power of 3. The Pyramid Quartz Choker, Zaria necklace with dark gun-metal settings and a classic necklace with raw Crystal Quartz. Crystal Quartz is known as the "Master Healer", an amplifier of your energy, thoughts, and the effect of other crystals. A stone known as a powerful tool that keeps negative energies at bay!
Sweet Moonchild, large statement Crescent Moon earrings from Restyle, click here to view more earrings.
A selection of our occult Sterling Silver Rings, such as the Pagan Pentagram Ring, the Magick Silver Ring and the Duo Snake Ring, ofc matched with pitch black Onyx. Is there any other colour? 😉
Click here to view more of our Silver rings, and here to view more of our Gemstone Sterling Silver Rings.
If you follow us on socials you have probably seen Amanda's striking looks and bewitching hassle eyes in the feed. It is a gift to have this girl on board, for content creation, modelling and as an assistant. As you may know, Hellaholics is a female operated small independent shop. Looking forward to grow together and get that creative magic going!